NEW LIFE. NEW PURPOSE.
At LifePoint, we believe that finding Jesus and choosing to follow him is the most important decision you can make.
We would love to help you find new life in Jesus and begin your journey of following Him.
FIND JESUS. BELIEVE IN HIM FOR NEW LIFE.
We are all born separated from God because of sin.
"All have sinned and fall short of the glory of God." Romans 3:23
God wants you to experience new life in Jesus.
"For the wages of sin is death, but the gift of God is eternal life in Christ Jesus our Lord." Romans 6:23
The gift of eternal life is received by believing in Jesus for it.
"Most assuredly, I say to you, he who believes in Me has everlasting life." John 6:47
According to what God tells us in the Bible, belief is the only requirement to receive the gift of life offered through Jesus. The moment you believe that Jesus paid the penalty for your sins and offers you life that never ends, you receive the gift of salvation. (John 1:12, John 5:11-12).
FOLLOW JESUS. LIVE FOR HIM IN ALL YOU DO.
After we believe in Jesus for eternal life, God wants us to follow Jesus as His disciple. When we follow Jesus, we seek to live a life that pleases Him in all we do.
A disciple of Jesus chooses to follow Jesus.
"If anyone desires to come after Me, let him deny himself, and take up his cross, and follow Me." Luke 9:23
A disciple of Jesus stays connected to Him by living the truth.
"If you abide in My word, you are My disciples indeed." John 8:31
Faith alone in Christ alone is all that is needed to get you to heaven. But you can begin to experience real life right now while you're still alive! God invites you to grow in your relationship with Him and enjoy God's purposed for your life. (I Peter 2:2, John 10:10)
GO PUBLIC WITH YOUR FAITH. EXPERIENCE BAPTISM.
LifePoint Church practices believer's baptism. Believing adults and children who understand the meaning of baptism are encouraged to take this step in obedience to Christ. While water baptism does not save you, it provides an opportunity to celebrate being made new in Jesus. Baptism is an outward symbol of an inward reality and is a picture of the death, burial and resurrection of Jesus Christ.
We believe that the biblical pattern reminds us that baptism follows belief in Christ for salvation. Therefore, we do not baptize infants but provide regular opportunities for parents to dedicate to the Lord their children who are ages five years old or younger.
If you have believed in Jesus and are interested in publicly proclaiming being made new in Him, we hope you will join us at one of our baptism celebrations.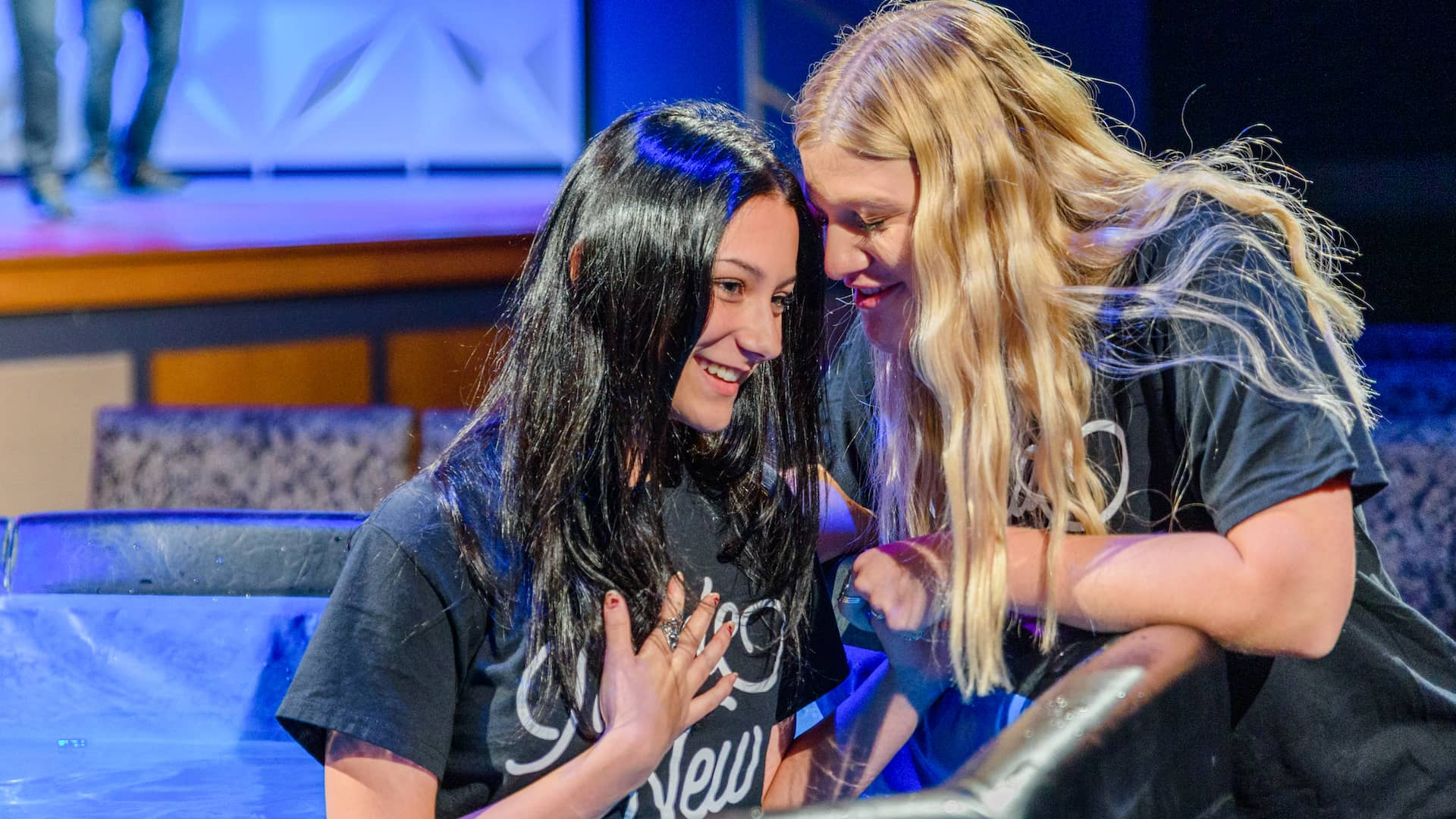 EVERYTHING HAS A STARTING POINT, INCLUDING YOUR SPIRITUAL JOURNEY.
Starting Point is an eight-week small group session for people curious about God, Jesus or the Bible. In a Starting Point class, your questions about God turn into a conversation about faith, free from pressure or judgment.
RESOURCES TO HELP YOU GROW
We provide curriculum for our groups to study together in small groups and in Bible studies. We also offer access to prior sermons along with discussion questions designed for individuals or groups.
We find freedom when we daily engage with God and His word.