Connecting People. Growing Faith.

We are created for community. Life is better when we experience it together.
No matter where you come from, we have a group for you.
We experience life when we invest in relationships. In a small group, you will learn, share and grow together, while applying the truth of God's word to real life.
We also offer Bible studies, where you will dig deeply into the word of God, both in a large group with live teaching, and in smaller groups for focused discussion.
Do you have a passion for other people? To be a small group leader, you don't need to be a Bible expert or have followed Jesus your whole life. All you need is to love God, love others, and want to help others grow in their faith.
Each small group semester, we provide curriculum for our groups to study together. We also offer access to prior sermons and Bible study workbooks.
We discover our identity when we engage with God together,
Connect with community, grow in your relationship with God, find hope and support.
No matter what you are looking for, we have a group for you.
List of Events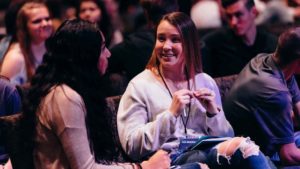 So you're a Christian, now what? Learn the essential ingredients of the Christian faith.
+ Export Events