On Sunday, May 15, Titus O'Bryant, our incoming senior pastor, and his family visited LifePoint. Joe introduced him during the service and he was able to share his eagerness to join the LifePoint family later this year.
Titus joined the teaching team during our summer series, and preached on Sunday, July 10.
He and his family have recently moved to Maryland. He will join the LifePoint staff on September 1, 2022.
In 1987, Joe and Tricia Duke, along with several other families, founded LifePoint Church (at the time called Carroll Community Church). Joe has faithfully served as our church's Senior Pastor for over thirty years. Several years ago, Joe began sensing that another adventure was in his future and that his time at LifePoint would be coming to an end. In a sermon on April 11, 2021, he described some of the details of his succession plan. Joe and the elders of our church are united around the process of finding the next Senior Pastor for our church.
This section of our website is devoted to keeping our church family informed about this transition. Here you'll find lots of information related to the Sr. Pastor succession process. We'll update this site as often as we have news to share about this significant and exciting season in the life of our church.
In our first Midweek episode in April 2021, Brad has a conversation with Joe & Tricia about the upcoming transition and what's next.
Introducing Titus O'Bryant!
The elder team is thrilled to announce our unanimous decision of Titus O'Bryant as LifePoint's next Senior Pastor!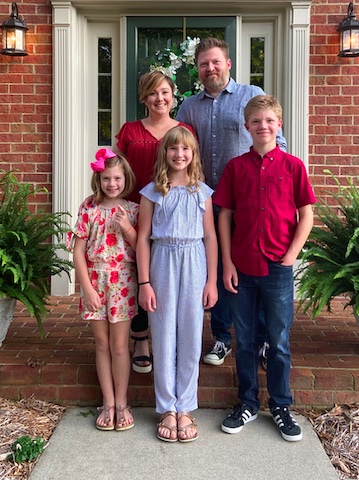 Titus, his wife Megan, and their three children, Ella, Rhys, and Molli reside in Johnson City, Tennessee, where Titus is currently the Teaching and Executive Pastor of Grace Fellowship Church. He has a Master's of Theology from Dallas Theological Seminary, and currently oversees all of the church ministries as well as preaching duties and various aspects of pastoral care.  He has an intense desire to teach, lead, and shepherd God's people.  
We look forward to welcoming Titus and his family to Maryland and LifePoint later this summer.
Listen to Titus' welcome message to LifePoint.
September 2022

Titus O'Bryant becomes senior pastor of LifePoint Church. Joe Duke becomes Pastor Emeritus.

February 2022

By unanimous decision, the elders select Titus O'Bryant as the future senior pastor of LifePoint Church. 

January/February 2022

Third-round candidates brought for on-site visit with the elders, staff and a subset of LPC volunteers.

December 2021

Wrapped up first-round interviews. Began second-round Zoom interviews with several candidates, conducted by the entire elder team.

November 2021

A group of elders continued conducting first-round Zoom interviews with several candidates.

October 2021

Candidates continue to be vetted through our Bluewater benchmark, with multiple candidates sourced, numerous reach-outs and several conversations. Started first-round Zoom interviews.

September 2021

The Senior Pastor succession search formally begins.

Introductory letter sent to another round of contacts. Bluewater begins process of vetting candidates based on established benchmark.

June 2021

LifePoint sends a list of over 300 possible contacts to Bluewater advisory.

The elders establish a benchmark of qualities we're looking for in a Sr. Pastor successor.

Introductory letter sent to the first round of contacts.

April 2021

In a sermon on April 11, Joe announces the details of a succession plan. In our worship service, the elders share their perspectives through a recorded Zoom meeting.

Joe sends a letter to our church family with information about his future departure and the succession timeline.

LifePoint enlists the services of Bluewater Advisory to aid in the search.
Joe's Succession Plan Announcement
If you missed the church service where Joe shared the details of his succession plan, watch the video to experience not only his words and heart behind this news, but to also see a recorded Zoom meeting of the elders. In that meeting they processed together more of the details of Joe's departure and our church's plans for the future.
Frequently Asked Questions
What is the time frame of the transition process?
Titus and his family will be moving to Maryland over the summer, and he will come on staff beginning September 1. After he begins, there will be a mentoring process of several months where he and Joe will work in tandem.
What will Joe and Tricia do after the transition?
Joe and Tricia's home, friends, and church family are in Maryland. They have no immediate plans to relocate. Joe will asume the title of Pastor Emeritus and will most likely continue ministry through a non-profit he hopes to start. His heartbeat is to see people understand and live out the message of grace. Presently, Joe and Tricia live equal flying and driving distance between their grandchildren who are in Colorado and the Outer Banks of North Carolina.
Here are some things you can pray for:
Pray for wisdom for Joe, Titus and the elder team as they navigate this process
Pray for Titus, Megan and their children as they settle in Maryland
Pray for Joe & Tricia as they begin the next chapter of their ministry
Pray for unity of heart and spirit in the LifePoint family