Trunk or Treat
October 25, 2019 @ 7:00 pm

-

9:00 pm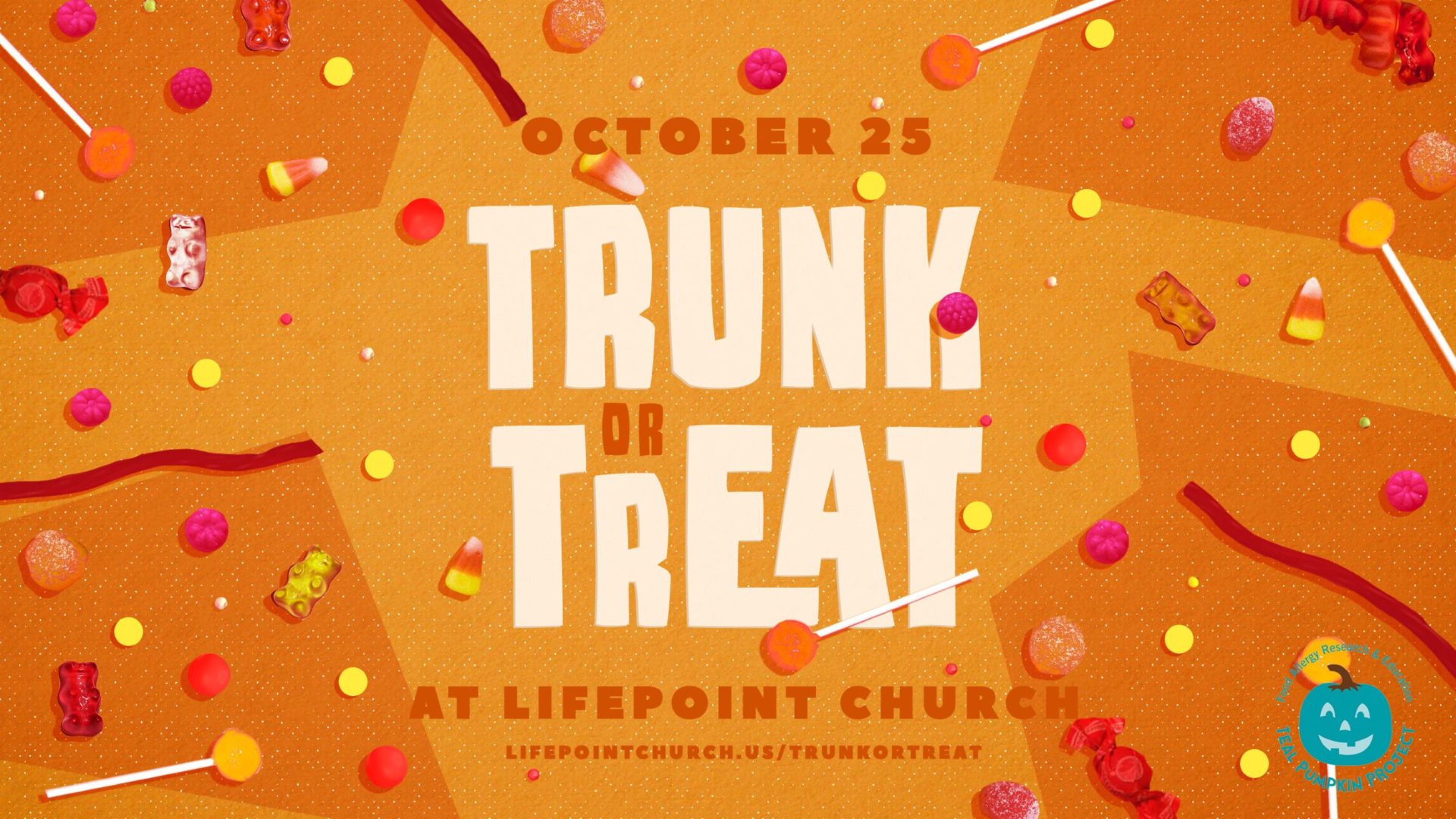 Put on your favorite costume and bring the whole family to Trunk or Treat at LifePoint! Collect loads of candy or other treats, make some new animal friends at the petting zoo, and vote for your favorite trunk! We'll have hot chocolate and snacks, a giant slide, photo booths, plus tons of games and activities and a grand prize drawing (family four-pack to the Baltimore Aquarium)!
It's all FREE so spread the word!
Hey LifePoint Family!
We're gearing up for the best Trunk or Treat ever and we'd love 100% participation from our LifePoint family! There are lots of ways you can help. Drop off your candy or non-food donations in the lobby. Click the buttons to sign up to decorate a trunk, to volunteer or to view our list of needed donations. We're looking for 150 trunks and 150 volunteers this year! 
Trunk Team Information
Thank you so much for being willing to be a part of our Trunk or Treat event, Friday October 25, 7-9pm!
Here are answers to Frequently Asked Questions to help make the evening a success
Q. What time do we arrive to set up our trunks?
A. Trunk set up is from 5:30-6:45 pm. We need all trunks set up and ready to go by 6:45 pm. Trunks that arrive after that time will not be allowed into the lot.
Q. Can I come early to set up my trunk?
A. Cars can arrive as early as 4:00 pm. Please do not arrive before that time as we will not be ready to receive you.
Q. Can I leave early?
A. No. For safety reasons, we need to have all trunks in place until 9pm.
Q. Where do I park?
A. Trunk cars will be parked in the north parking lot (the lot to the left when you pull in). Attendee parking will be in the opposite lot. When you arrive, you will be directed where to park.
Q. Do I need to bring candy to hand out?
A. Yes, please!!! We are asking each trunk to bring a minimum of 500 pieces of candy or non-food items to hand out. The church is collecting candy and non-food donations and we will distribute these to our trunks as needed, but please plan on having a good supply on hand to start with.
Q. What about children with food allergies? Will there be Teal Pumpkins with non-food treats? Can I designate my trunk as part of the Teal Pumpkin Project?
A. Of course! We want to include everyone. Any trunks that wish to have non-food items can indicate that on their sign-up and we will provide a Teal Pumpkin for them to display. Visit Teal Pumpkin Project to learn more. Feel free to get creative!
Q. Will there be prizes for trunk decorating?
A. Of course! Participants will receive voting cards when they arrive and can vote for their favorite cars as they trunk or treat. Each trunk will be numbered as they arrive and the top trunks will win a prize!
Q. How do we win?
A. Voting will run from 7:00 – 8:30 pm. Again this year we are using voting cards, so there is nothing that trunks will need to turn in. Just be creative – the top three cars will win a prize!
Q. Can I volunteer to help during the event?
A. Definitely! If you are coming with a group of people, please consider having a few people on your team sign up to help. Please check out the sign-up link posted at the top of this page.
Q. What is the plan in case it rains?
A. Our rain date is Saturday, October 26. We will keep an eye on the weather and communicate in advance if we need to reschedule. 
Q. Can my trunk be scary? Can I play scary music?
A. When choosing how to decorate your car, please keep in mind that there will be young children attending this event. If in doubt, please err on the side of caution, keeping in mind Who we represent.
Q. What if I'm part of a group that needs multiple spots? Can my group be parked near each other?
A. If you are part of a group that wants to be together, please indicate that on the sign-up form. In addition, plan to arrive early and let the parking attendants know how many spots you or your group will need.
Q. What if I have large props with my trunk and need an extra parking spot?
A. If you need extra spots, we are happy to accommodate you but need to know that in advance. Please indicate on your sign-up how many parking spots you will need.
Q. Will I have access to electrical POWER?